How E-learning Is Used in Various Industries – Some Examples
Online learning solutions have influenced training methods in many industries – See some examples of how e-learning changed training delivery.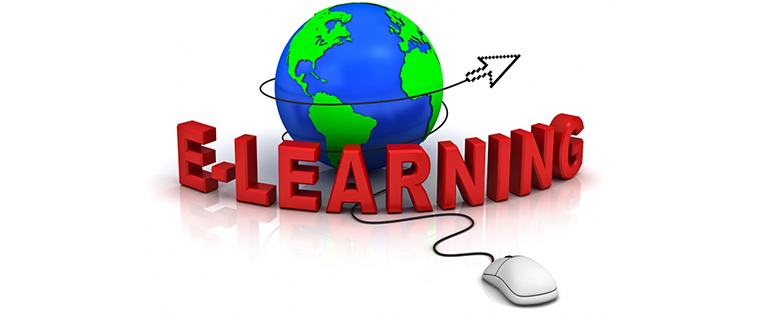 With the growth of e-learning, various industries across the world have adopted this learning method to train their employees effectively. Training in any sector is not a one-time event and for this, e-learning is the best option because a company needs to invest only once; these online training programs can be repeated to train any number of employees.
Listed here are a few examples of how e-learning can help deliver effective training across various industries.
1. Pharmaceutical Industry
The pharmaceutical industry is one of the most dynamic sectors of the economy. This industry releases several new drugs into the market every year, and this makes it necessary to impart training on the features of these new products to their sales people. This can be done easily using the online training medium. E-learning facilitates effective training of the sales representatives of pharmaceutical firms without disrupting their work as online courses can be accessed anytime, anywhere. These courses can be updated very easily and rapidly, and this considerably reduces the time-gap between the launch of the medicine and training to the sales staff.
Let us look at an example from one of our e-learning courses where we have used a scenario in which a company's sales representative is trying to convince a doctor to prescribe his product to the patients.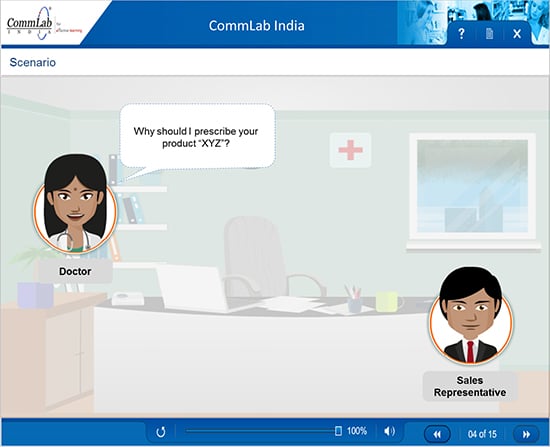 2. Retail Industry
Retail is one of the largest sectors in the context of industries. According to Plunkett Research, there are 15.4 million employees in the United States alone who contribute to the nation's gross domestic product (GDP), constituting about 8%. Training needs of such a diverse workforce are many, customer service excellence being one of them.
Let us look at an example from one of our e-learning courses on customer service excellence. This course explains the importance of customer delight and identifies the key areas in which you can provide satisfying customer service.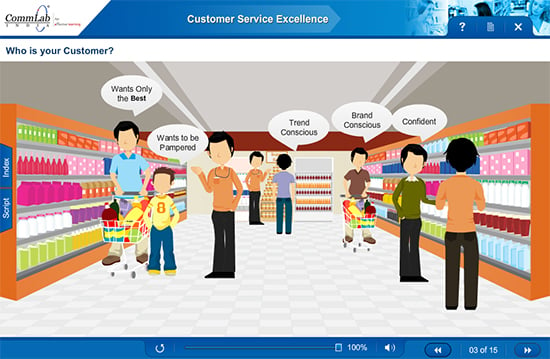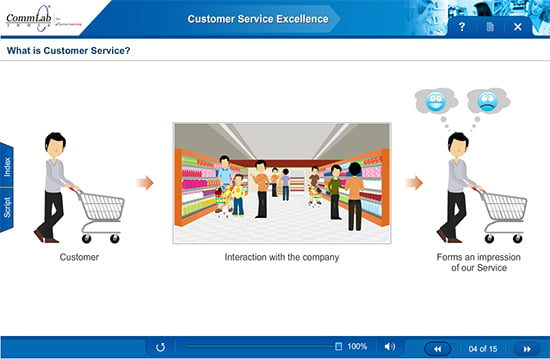 3. Banking and Finance Industry
It is well-known that the Banking, Financial Services and Insurance (BFSI) sector plays a key role in the economy. Banking and financial organizations are in the continuous need to train their employees on new processes, financial instruments, technologies, and so on. E-learning is an effective solution to the various training challenges (such as process, software, financial instruments, sales and so on) faced by banking and financial professionals. It also helps the employees of these firms to equip themselves with the skills and knowledge required to use the complex software proficiently and communicate first-rate information-security training.
Let us look at two examples from our courses. One is on information security and the other is on basic insurance.
The e-learning course on information security highlights the importance of information security. It defines the types of data and explains how to identify, handle, and dispose data based on their sensitivity.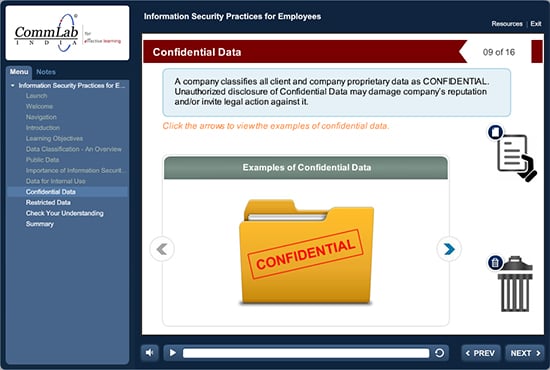 Let's take another example from one of our sample courses on basic insurance. This sample course gives an overview of basic insurance.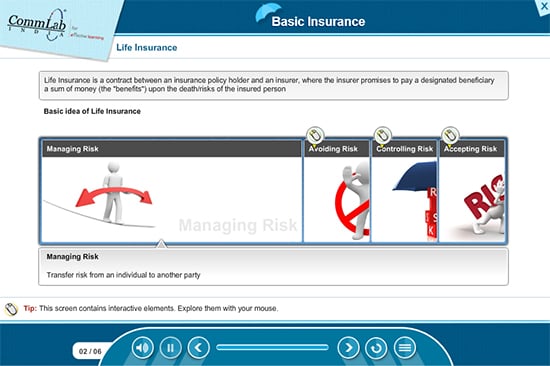 4. Manufacturing Industry
The manufacturing industry is one of the major and important segments of the economy and U.S manufacturing industries are estimated to manufacture products worth about $1.8 trillion every year. These organizations need to train their employees on various aspects such as the code of conduct, anti-bribery policies, information security, safety, Good Manufacturing Practices (GMPs) and so on.
Let us look at an example screen on GMP regulations from one of our courses. GMP regulations require manufacturers of food and pharmaceutical products to produce the products according to prescribed quality standards. It covers all aspects such as production, hygienic premises and equipment. If GMP regulations are violated, it results in serious consequences (such as fines and even imprisonment, company seizure, and recall of batches of products). With such e-learning courses, industries can train their employees effectively to prevent violation of GMP regulations. After all, prevention is better than cure!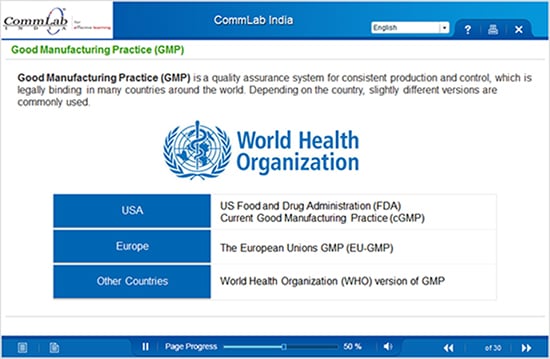 Training through e-learning is very convenient because online courses can be accessed anytime, anywhere. It saves the time of employees and is profitable for the organization. I hope you find this blog useful. Please share your views.