How to Find the Right Custom eLearning Outsourcing Vendor? [SlideShare]
How about finding the right custom eLearning outsourcing vendor by asking just 5 questions? Explore this SlideShare to find what exactly you need to find answers to for a perfect custom eLearning vendor!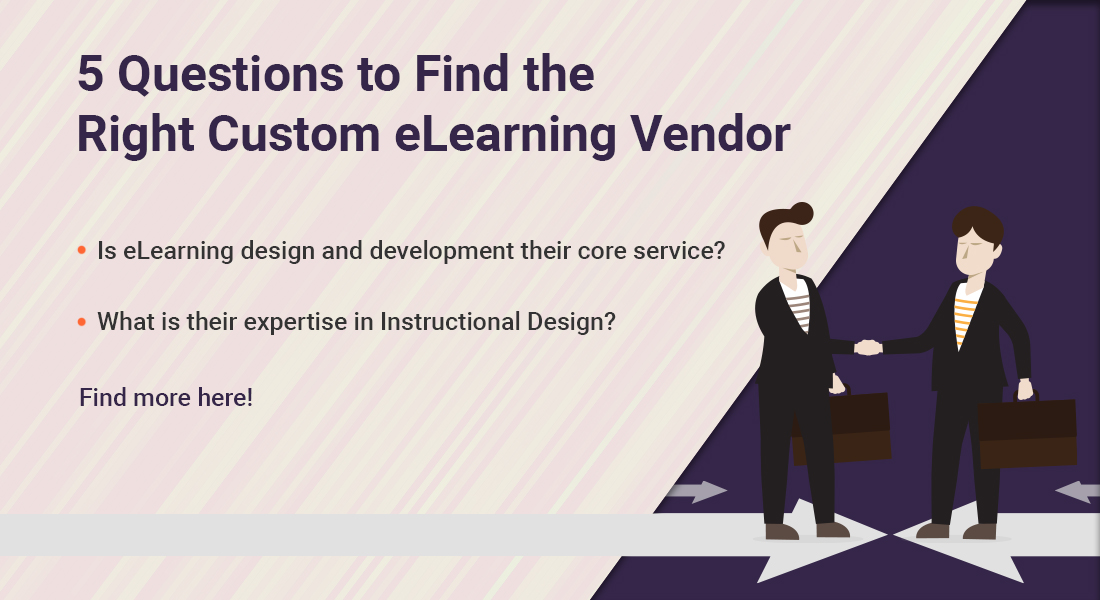 Why should you go for eLearning, leave apart outsourcing custom eLearning development to a vendor? Let's find out!
According to Forbes, the eLearning industry was predicted to reach $107 Billion by 2015 and indeed it did! What about the future? eLearning revenue will increase three times to $325 Billion by 2025. eLearning has proved to be a fail-safe method for employee training and more so after the restrictions posed by the pandemic.
However, no eLearning program will be effective if courses are designed poorly and do not cater to the needs of your learners. If you are planning to design and develop custom eLearning courses in-house with a newly-formed team, the final output might not be what you expected. This is where the role of a custom eLearning vendor comes in.
Custom eLearning vendors are experts in designing, developing, and delivering high-impact eLearning courses while ensuring they are learner-centric, and are based on robust instructional design and adult learning principles. In addition, their expertise in using eLearning authoring tools is certainly going to better be than your in-house team.
But, are you wondering how to find the right custom eLearning outsourcing vendor when the market is flooded with vendors who boast of similar services? So, here's a SlideShare that tells you 5 important questions you need to ask to find your custom eLearning outsourcing vendor match!